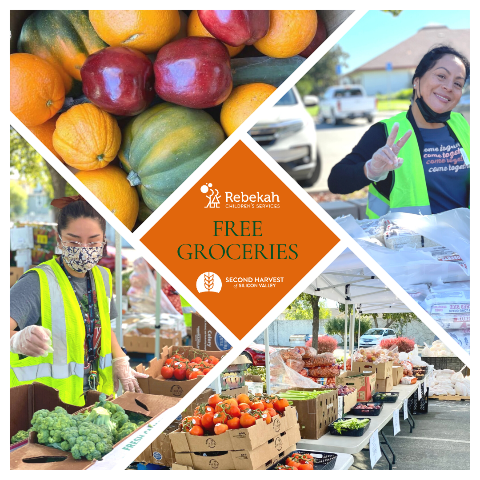 Want to know more?  Please contact us at one of our phone numbers above, or send us an email below.
We look forward to hearing from you!
Free Groceries Program in Partnership with Second Harvest Food Bank
Do you need more food for your family?
Join Second Harvest Food Bank and Rebekah Children's Services for the Free Groceries Program.
The Free Groceries Program is a monthly food giveaway. You can get rice, beans, pasta, chicken, eggs, tortillas, fruits, vegetables, and other nutritious food for your family.
Info for new clients
Register on-site. Bring a cart or wagon to carry your groceries. You will receive more food than you can carry by hand. This is a Farmer's Market-style site. You will choose from a variety of foods.
What to bring for your first visit
How can I pick up food for a neighbor or family member?
A neighbor, family member, or friend may pick up on behalf of another client. They will be asked to provide the Client ID number or other identifying information, such as the name, phone number, and postal code of the client.
What languages are spoken here?
Distribution location
Site entrance through IOOF (Gate #1)
How often can I get food at this location?
Once a month, every fourth Friday